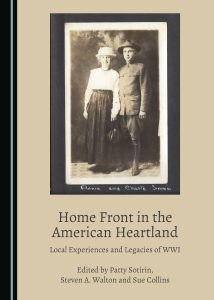 An edited volume of a selection of papers presented at the WW1CC symposium has been published! Home Front in the American Heartland: Local Experiences and Legacies of WWI is now out. The volume contains one dozen articles in three sections (ToC below) and explores the various ramifications and realities of the Great War on the American Heartland.
Now available from Cambridge Scholars Press direct (or, of course, from Amazon). We also encourage you to have your library buy a copy!
This collection offers a multifaceted exploration of World War One and its aftermath in the northern American Heartland, a region often overlooked in wartime histories. The chapters feature archival and newspaper documentation and visual imagery from this era. The first section, Heartland Histories, explores experiences of conscription and home front mobilization in the small communities of the heartland, highlighting tensions associated with patriotism, class, ethnicities, and locale. In one chapter, the previously unpublished cartoon art of a USAF POW displays his Midwestern sensibilities. Section Two, Homefront Propaganda, examines the cultural networks disseminating national war messages, notably the critical work of local theaters, Four Minute Men, the Allied War Exhibitions, and the local commemorative displays of military relics. Section Three, Gender in/and War, highlights aspects often over-shadowed by male experiences of the war itself, including the patriotic mother, androgynous representations in wartime propaganda, and masculine violence following the war. Together, this volume provides rich portraits of the complexities of heartland home front experiences and legacies.
Table of Contents
Section One: Heartland Histories
Robert Goodrich, "Dynamic Loyalties: Mario Ruconich and Austro-Hungarian Migrants in Michigan
during the Great War," 2-27
Leslie A. Bellais, "'Lest We Forget': Remembering World War I in Wisconsin, 1919–1945," 28-67
Amy Fels, "Oshkosh on the Home Front: Activities and Attitudes during World War I," 68-83
Hilary-Joy Virtanen, "'Do You Claim Exemption from Draft?' Voicing Dissent through the World War I Draft Card," 84-110
Douglas N. Lantry, "The End of Guy Brown Wiser's Air War: Notes on an American Airman's First World War P.O.W. Artwork," 111-135
Section Two: Homefront Propaganda
Sue Collins, "Copper Country Motion Picture Theaters and World War I," 138-168
Christopher J. McCollough, "The Four Minute Men: Propaganda and Public Relations Antecedents Born in America's Heartland," 169-188
Josh Fulton, 'Your Duty on Display': The Allied War Exposition in Chicago, State Council of Defense,
and Role of the State in Defining American Identity, 189-205
Steven A. Walton, "The Allied Expositionary Forces in World War I:
From Patriotism to Memorialization of War," 206-239
Section Three: Gender in/and War
Patty Sotirin, "Copper Country Mothers on the WWI Home Front," 244-279
Sarah F. Price, 'Boy That's the Girl': The Androgynous Nature of WWI Propaganda Posters," 280-305
Rebecca Frost, 'This Mad Brute': Postwar Male Violence and the Pathological Public Sphere," 306-318