Soldier's Stories: The U.P. and the Great War
June 21, 2018

-

September 30, 2019

FREE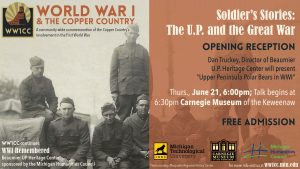 On Thursday, June 21, the first of several exhibits commemorating the Copper Country's involvement in World War I opened at the Carnegie Museum of the Keweenaw, "Soldier's Stories: The U.P. and the Great War," with a public reception and talk by exhibit curator and Beaumier U.P. Heritage Center's Director, Daniel Truckey.
Mr. Truckey's talk, "Upper Peninsula Polar Bears in WWI", discussed the nearly 100 U.P. men, known as the Polar Bears, who served in the Northern Russia Expeditionary Force during the winter of 1918-1919. "This little known and poorly understood part of WWI impacted several dozen soldiers from the U.P. In 1918, as a response to a cease fire between Germany and Russia, there was an alliance of British, French, Canadian and U.S. troops who were sent to Northern Russia and Siberia to fight against the newly formed Bolshevik government troops." Some of the soldiers were highly decorated and some gave the ultimate sacrifice.
In creating the Soldier's Stories exhibit, the Beaumier Center worked with historical societies and families in the Upper Peninsula to collect the stories of individual soldiers, including their personal histories and experiences in the conflict. The exhibit examines two main aspects of the Upper Peninsula's involvement in the Great War: 1) the experience of the Polar Bears, and 2) the American Legion posts formed throughout the U.P. after the war. A recurring theme of the exhibit is the social and ethnic identity of the men, almost all of whom were first generation Americans, some not yet citizens. "The conflict had a significant impact on the soldiers' growing identities as Americans and also for their families."
"Soldier Stories" will run through September 30th as part of the World War I & the Copper Country (WW1CC) initiative.