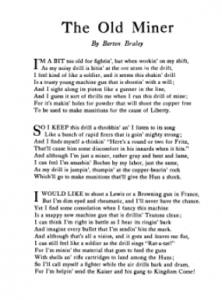 Although the American contingent heading to Europe was relatively small compared to European Countries, there was still a sentiment that those that did not enlist were somehow shirking their responsibilities.  Those left at home sometimes responded that they, too, were doing their part.  Such is the case as when Berton Braley published a poem in the Engineering and Mining Journal praising the copper miner for doing his part in the war. Born in Madison and after graduating the University of Wisconsin in 1905, Braley worked as a reporter in Butte, Montana. In 1909, after selling ten "Mining Camp Ballads" to the Saturday Evening Post, he moved to New York to work for Life and other publications. During WWI he was a war correspondentin England and France and much of his poetry is attuned to the technological and industrial advances of his day. Even though he was apparently never a miner himself and he formed his impressions in the copper district in Montana, one can imagine that his poem was popular here in the Copper Country of Michigan.
(Braley also published a book, Songs of the Workday World (1915) with a section entitled "Songs of the Copper Country," but this almost certainly relates to Montana, not Michigan.)
The Old Miner
by Berton Braley
I'M A BIT too old for fightin', but when workin' on my shift,
As my noisy drill is bitin' at the ore seam in the drift,
I feel kind of like a soldier, and it seems this shakin' drill
Is a trusty young machine gun that is shootin' with a will;
And I sight along its piston like a gunner in the line,
And I guess it sort of thrills me when I run this drill of mine;
For it's makin' holes for powder that will shoot the copper free
To be used to make munitions for the cause of Liberty.
SO I KEEP this drill a-throbbin' an' I listen to its song
Like a bunch of rapid firers that is goin' mighty strong;
And I finds myself a-thinkin'  "Here's a round or two for Fritz,
That'll cause him some discomfort in his innards when it hits."
And although I'm just a miner, rather gray and bent and lame,
I can feel I'm smashin' Boches by my labor, just the same,
As my drill is jumpin', thumpin', at the copper-bearin' rock
Which'll go to make munitions that'll give the Hun a shock.
I WOULD LIKE to shoot a Lewis or a Browning gun in France,
But I'm dim eyed and rheumatic, and I'll never have the chance.
Yet I find some consolation when I fancy this machine
Is a snappy new machine gun that is drillin' Teutons clean;
I can think I'm right in battle as I hear its ringin' bark
And imagine every bullet that I'm sendin' hits the mark.
And although that's all a vision and it goes and leaves me flat,
I can still feel like a soldier as the drill sings "Rat-a-tat!"
For I'm minin' the material that goes to feed the guns
With shells an' rifle cartridges to land among the Huns;
So I'll call myself a fighter while the air drills bark and drum,
For I'm helpin' send the Kaiser and his gang to Kingdom Come
---
Source: Engineering and Mining Journal 105.26 (29 June 1918): 1169 and also reprinted in Mine & Quarry 8-11 (1918): 1096, but missing the second verse.